Vladimir Vaneyev
(Russia)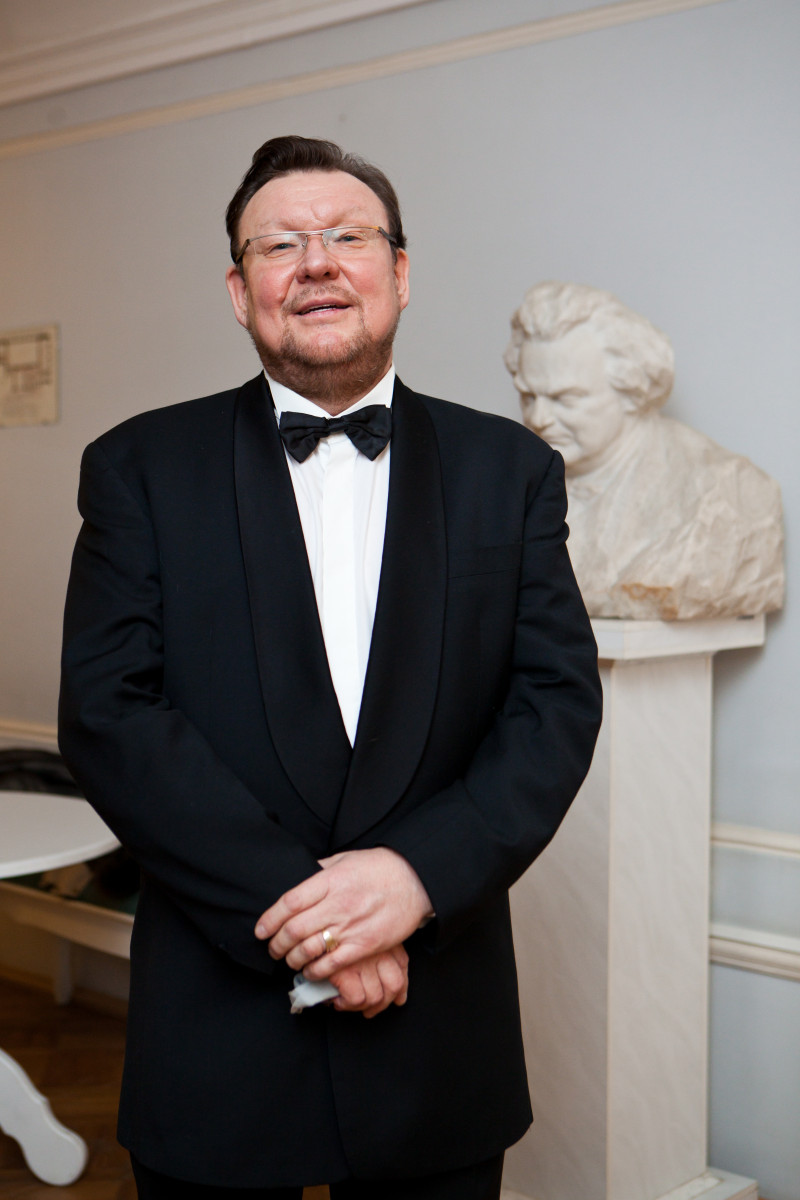 People's Artist of Russia, Recipient of the State Prize of Russia, Prize-winner at All-Union, All-Russian and International Competitions, including the Perm Vocalists' Competition (1987, 2nd prize), the Voci Verdiani competition (Italy, 1990, 3rd prize and prize as best bass), the Singing Competition in Paris (1990, 2nd prize) and the Shaliapin Competition (Kazan, 1993, Grand Prix). Vladimir Vaneyev graduated from the Gorky State Conservatoire in 1986 and was invited to join the Musorgsky State Theatre of Opera and Ballet (Leningrad), where he sang the roles of Dosifei (Khovanshchina), Galitsky, Khan Konchak (Prince Igor), Gremin (Eugene Onegin), King Rene (Iolanthe), Zlatogor (The Queen of Spades), Peter I (Peter I), Monterone, Sparafucile (Rigoletto), Filippo II and the Grande Inquisitore (Don Carlo).
Vladimir Vaneyev joined the Mariinsky Theatre in 1997. Among the roles he has performed at the Mariinsky are: Ruslan (Ruslan and Lyudmila), Boris Godunov, Pimen (Boris Godunov), Dosifei, Khovansky (Khovanshchina), Prince Galitsky, Khan Konchak, Prince Igor (Prince Igor), Kochubei, Mazepa (Mazepa), Grigory Gryaznoy (The Tsat's Bride), Count Tomsky (The Queen of Spades), Rene (Iolanthe), Filippo II (Don Carlo), Amonasro (Aida), Fiesco (Simon Boccanegra), Scarpia (Tosca), The Dutchman (Der fliegende Holländer),Wotan (Das Rheingold), and many others.
Vladimir Vaneyev has toured in the USA, Japan, Germany, France, Great Britain, Spain, Italy, the Netherlands, Portugal, Belgium, Norway, Finland, Israel, Turkey, Poland, Austria and New Zealand. As a guest soloist the singer has appeared at major opera houses and concert venues, performing lead opera roles. Vladimir Vaneyev has taken part in recordings of Shostakovich's 14th Symphony (with the West German Radio Orchestra, 1998), and of the operas Boris Godunov (Philips Classics, 1998), Betrothal in a Monastery (Philips Classics, 1998), Mascagni's Parisina (with the French Radio Orchestra), A Love for Three Oranges (Philips Classics, 2002), and Simon Boccanegra (New Zealand, 2002). He has also made CD and DVD recordings of Rachmaninoff's vocal-symphonic poem The Bells, as well as of the operas Lady Macbeth of the Mtsensk District (Amsterdam, 2006), Khovanshchina (Barcelona, 2007), Le Rossignol (Cologne, 2012) and The Legend of the Invisible City of Kitezh and the Maiden Fevronia (2012). Since November 2019, head of the solo singing department of the St. Petersburg Conservatory.