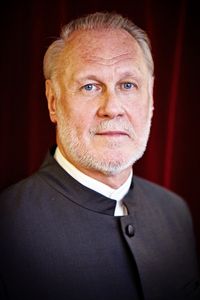 Sergei LEIFERKUS
(Russia)
is an outstanding singer who had triumphed on all opera stages of the world. He graduated from the Leningrad State Conservatory and subsequently worked for a long period in the city's opera theatres. The world-wide fame came in the beginning of 1980s, when he started performing at the world's leading opera houses such as Covent Garden in London, the Viennese Staatsoper, Opera de Bastille, La Scala, the MET and Teatro Colon in Buenos Aires. Sergei Leiferkus became a permanent and warmly-welcomed guest at the major opera festivals in Edinburgh, Bregenz, Glyndebourne, Tangle wood, Ravine and Salzburg. Nowadays he focuses not only on stage productions, but also gives numerous recitals in Moscow, Saint-Petersburg, New York, London, Amsterdam, Vienna, Milan and others. He has collaborated with Boston, New York, Montreal, Berlin and London symphony orchestras and conductors Claudio Abbado, Zubin Metha, Seigi Ozawa, Yuri Temirkanov, Valeri Gergiev, Neeme Jarvi, Mstislav Rostropovich, Curt Masur and many others.
The richness of vocal timbre and an outstanding acting talent of Sergei Leiferkus have enabled him to perform in most diverse opera stagings and to build unforgettable roles. His repertory includes over 40 roles, including the name titles of Evgeny Onegin and Mazeppa by P.Tchaikovsky, Prince Igor by A.Borodin, Nabucco, Macbeth and Simon Boccanegra by G.Verdi and Don Giovanni by W.A.Mozart , Telramund ( "Lohengrin" ) and Clingsor ("Parcifal" by R.Wagner) , Amonasro ("Aida" by G.Verdi"), Don Carlos ("La forza del destino" by G.Verdi), Yago ("Othello" by G.Verdi), Rupert ("The fiery angel" by S.Prokofiev), Prince Andei ("War and peace" by S.Prokofiev) and many others. Sergei Leiferkus pays great respect to stylistic and linguistic nuances of works being performed and whereas is able to embody on stage such diverse  characters as Scarpia ("Tosca" by G.Puccini), Gerard ("Andre Chenie" by U.Giordano), Escamilio ("Carmen" by G.Bizet), Zurga ("Les chercheurs des perles" by G.Bizet). The discography of Sergei Leiferkus includes well over 40 CDs and DVDs. His recordings of Russian music have attained many international prizes; some albums have been nominated to Grammy awards. In his catalogue of video recordings one can find operas staged at the Mariinsky theatre ("Evgeni Onegin" and "The fiery angel") and at the Covent Garden ("Prince Igor" and "Othello"), three versions of "The Pique Dame" (Mariinsky theatre, Staatsoper Wien, Glyndebourne festival) and "Nabucco" (Bregenz festival). Recently Sergei Leiferkus has taken part in the television productions of operas "Carmen" and "Samson and Dalila" at the MET. 
Besides such busy performing schedule Sergei Leiferkus gives master classes and teaches in Berlin, Toronto, Moscow, Boston and Oldborough.