baritone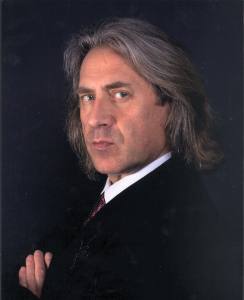 Vladimir Chernov graduated from the Tchaikovsky Conservatory in Moscow where he studied with Georgy Seleznev and Gugo Tiz. In 1981 he joined the Kirov Opera in St. Petersburg as a soloist. In this same year he won second prize, and was awarded a Special Jury Prize, in the Glinka Competition. In 1982 he was sent to the prestigious Accademia della Scala where he studied with Guilietta Simionato.
During the following years he achieved notable successes in other major vocal competitions, the Tchaikovsky Competition in Moscow, Carlo Galetti in Busetto, Miriam Helin Vocal Competition in Helsinki.
He is recognised throughout the operatic world for his unique vocal qualities, acting ability and an impeccable Italianate style that is the hallmark of his performances in the numerous Verdi and bel canto operas in his repertoire. He had performed practically all opera repertory for baritone at Covent Garden, La Scala, Opera Bastille, Viennese Opera and other major stages. During a long period Vladimir Chernov had appeared in many of Verdi's operas under the baton of J.Levine at the Metropolitan Opera.
As a recital artist Vladimir Chernov has appeared at many of the world's leading venues including the Wigmore Hall in London, Lincoln Center in New York, Vienna Konzerthaus, Los Angeles, Finnish National Opera in Helsinki and many other cities. The singer has an immense chamber repertory and appreciates the most Russian, German and Italian vocal music.
In March 2005 he was in residence at UCLA as a Regents' Lecturer in the Music Department's Division of Voice and Opera where he coached their young singers in both private and class lessons, taught two Master Classes which were open to the public, and performed in recital. At the present time Vladimir Chernov is a Professor of Vocal Studies at UCLA and a Faculty member of Opera Ischia; he combines teaching with his other professional engagements.
---