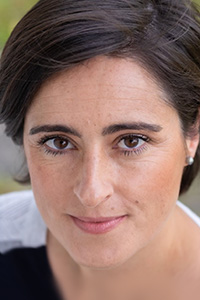 Carmen DE MIGUEL
(Spain)
was born in Spain, where she started her studies becoming а Bachelor in Philology, German Studies at Valladolid Universidad de Filosofia y Letras and Master in Music Studies, specialized in Musicology, Violoncello and Singing at the Conservatorio Professional de Musica. Furthermore she become Bachelor in interpreter, Lexicography and translating as well as French Philology at the Universitat des Saarlandes in Germany, and she complete post-grade Studies at the Music High Schools in Saarbrucken and Luxembourg.
1998 she started her professional career as assistant at the Spanish public relations Department of Daimler Chrysler - Stuttgart. 1999 worked as translator and interpreter at the KBL Bank Luxembourg and one year later continued her long career in the publishing industry, working as editor and translator for Larousse, Collins, Langenscheidt, TNeues and Klett - Pons among others. 
At the same time cooperated as language assistance at the Information Multimedia Communication Company Saar. In 2002 she became vocal-diction coach and language teacher for opera singers focusing on German and French repertoire. The same year she started managing activities by the organization of Music events in Spain and later in Latvia with non profit organizations. Furthermore became manager at the DFSO Orchestra taking charge of concert planning in Saarlorlux area and participated in the organization of the Japan tours of the Kammerorchester Saar and Vokalensemble at the Act City Hall Hamamatsu in cooperation with Yamaha company.
2008 founded Cademi Artists Management. Since then works internationally as artists manager as well as artistic consultant for several theaters.