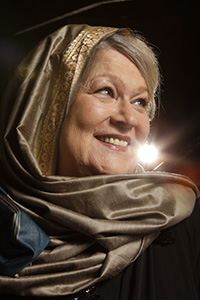 Annett ANDRIESEN
(Netherlands)
Annett Andriesen studied with Jos Burcksen, Meinard Kraak and Re Koster. She was a prizewinner in Hertogenbosch in 1975.
As an opera singer she sang approx. 100 smaller and bigger roles in The Netherlands, Belgium, England, Germany, Spain (Liceu), Italy (La Scala), Lyon Opéra and San Francisco a.o. Fricka (Walküre), the Countess (Pique Dame), Didon (Les Troyens), Ulrika (Un Ballo in Maschera), Frau Mary (Fliegende Holländer), La Zia Principessa (Suor Angelica),), Mme Croissy (Les Dialogues), Erda (Das Rheingold), (Suor Angelica), Äbbes in Krol Roger, Äbbess in Axel (Reinbert de Leeuw/Jan van Vlijmen), Norn (Götterdämmerung), Klytaemnestra (Elektra), Kostelnicka (Jenufa), Filipjefna (Onegin), Amme (Boris Gudunov), etc.
She sang several worldpremieres of modern opera's from Dutch composers: Theo Loevendie, Konrad Boehmer, Henk Alkema, Jan van Vlijmen, Ilse van de Kasteelen, Robin de Raaff, etc. 
The conductors she worked with are a.o. Martyn Brabbins, Jean Fournet, Sergiu Commissiona, Bohumil Gregor, Michael Gielen, Hartmut Haenchen, Gustav Kuhn, Reinbert de Leeuw, Henri Lewis, Kenneth Montgomery, Kyrill Petrenko, Peter Schneider, Ed Span¬jaard, Lucas Vis, Hans Vonk, Edo de Waart and Gennady Rozh¬jestvensky. Recently she sang the Old Burya (Jenufa), The Sorceress (Dido and Aeneas), Austrian Woman (Death of Klinghoffer by John Adams, the countess (Pique Dame), Ulrika (Un Ballo in Maschera) and in The Cunning little Fixen and Makropulos by Janacek. She appeared in the world premiere of A Dog's Heart by Alexander Raskatov, a new production during the Holland Festival produced by Dutch National Opera, staged by Simon McBurney. The production was taken to La Scala in Milano and to Lyon. The production returned to Amsterdam in 2017. 
She worked as a mentor and coordinator of the Master Singer Performer at the Amsterdam Conservatorium and Theatre School. She taught opera and vocal technic for jazz singers. She was connected to the Amsterdam Conservatorium as a regular teacher. She retired from the Conservatorium in 2015. She is a member of the Board with several cultural institutes in The Netherlands. Andriesen produced two opera's in the Netherlands, both world premieres by a Dutch composer. She is an advisor to the Dutch Council of Arts for Opera and Musical Theatre.
From 2007 – 2019 she was artistic and financial director of the International Vocal Competition IVC in 's-Hertogenbosch The Netherlands, one of the world's most reputable competitions since 1954 for classical vocal performers. She now acts as ambassador and ecruter for the competition. She appears in panels and jury's on Dutch Radio & Television and is regularly a member of the jury for voice competitions.
She still appears on stage with roles as Filipjefna, Amme (Boris), Herodias, Florence Pike, Frau Mary, Old Burya, Countess, Mamma Lucia, a.o.